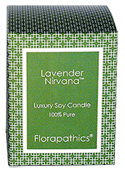 Your Quest for Amazing Luxury Soy Candles is Over!
Ambiance and Aromatherapy -- Each of our 11.65 oz. luxury soy aromatherapy candles has over 20 ml of pure essential oils, so it doesn't just smell good before you light it... it smells good when you do!
Each of our expertly hand-crafted artisan candles is made from pure EcoSoya soy wax and 100% pure essential oils, and comes in a nicely printed box for gift giving. Each candle formula is wick-tested to ensure a full, complete, even, clean burn. Burn time for each candle is 60 hours.

Enter the coupon code
SAVE10NOW
during your online checkout. (1-time use)